From Rock Nation:
One point is still a win to stay alive and one point is still enough to win a title.
Toronto fans knew that it was coming and the Raptors knew it too. Despite the Warriors best efforts in Game 6, the Toronto Raptors defeated an ailing Warriors team 114-110 in Golden State. Granted that many will cry foul (pun intended) over the fact that both Kevin Durrant and Klay Thompson did not play due to injuries, the show must still go on. The Warriors were desperate to stay alive on their home court; but going up a fully healthy Raptors squad with a deficiency of two of their best starters, there was only so much that could done. To their credit, the Warriors kept it close all the way to the end, but a final 3 point attempt by Steph Curry that would have tied the game in the final seconds fell short of the mark.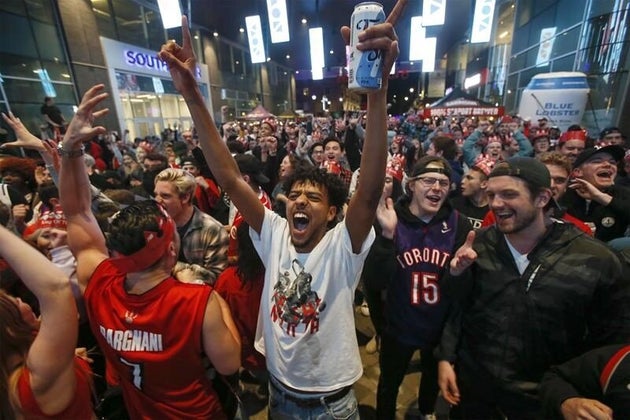 Excited Raptor fans at home
What will become of the Warriors now? The future of the team is in doubt with trade rumors swirling about since last year , involving Draymond Green, Klay Thompson and Kevin Durrant. The Warriors had a great run as defending NBA champions. It is unwise to break up any championship franchise, but now that the season is finally over, NBA teams can now be restructured. Are the Warriors on the list of teams to make changes?
NBA Champions, 2019 - Toronto Raptors