From Rock Nation:
This particular outcome was certainly not what anyone expected
The challenger Ruiz, who was written off as an easy knockout, sent Joshua to the canvas four times in six rounds, before stopping the heavyweight champion in the seventh round
Although Ruiz had an impressive record of 22-1 coming into the fight, who would have expected that the shorter, pudgy fighter from Mexico would have any real chance of stopping the larger, muscular heavyweight champion of the world? Well, anyone who put money on Joshua before the fight won't see a penny of a return on an investment, as the shockingly fast and resilient Mexican handled Joshua as if he were an amateur fighter.
Joshua knocked Ruiz down in the first round, which sent British fans into a frenzy, believing that the celebrations would soon begin. But jubilation soon turned to shock as the Ruiz got up off the mat and immediately put Joshua on it in the same round. With one knockdown between them, both fighters gathered their composure to continue the bout; but according to fight commentators, the champion appeared to have taken the worst of the exchange and appeared to be hurt.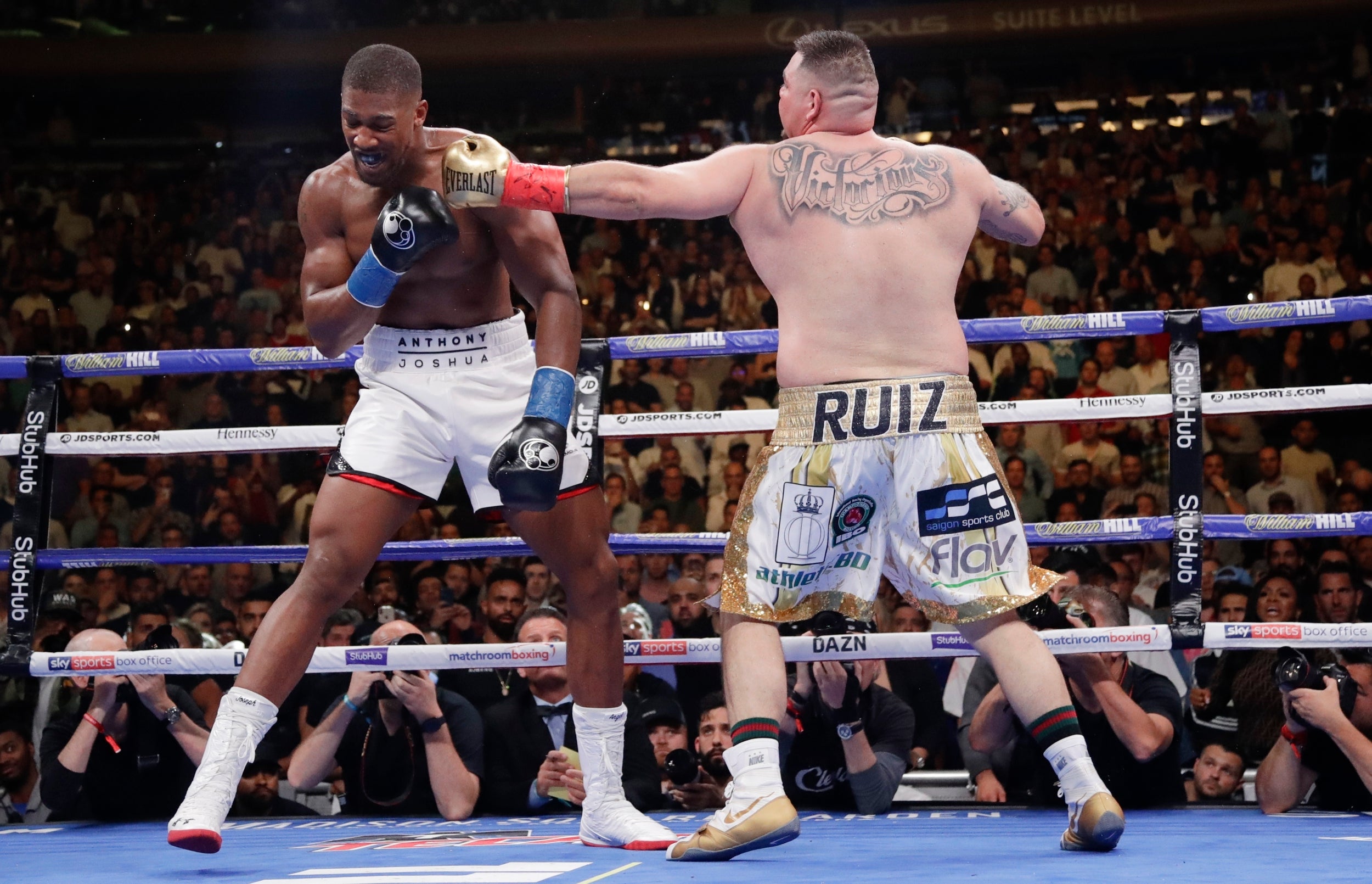 Joshua, although taller and seemingly stronger than Ruiz could not use his size advantage to dominate the fight in any round. Ruiz, a solid and sneaky counter-puncher, positioned himself close to Joshua, not allowing the champion to take advantage of his longer reach. By round six, stunned British fans watch Ruiz take full control of the fight by putting the champion on the canvas with ease, before finally stopping him in the seventh round. 
The referee stops the fight in the seventh round with a jubilant Ruiz jumping with excitement in the ring as the new World heavyweight Boxing Champion, and the first ever Heavyweight Champion from Mexico.
Top Heavyweight Contender, Deontay Wilder
News of this loss by the heavyweight champion is certainly good news for top contender Deontay Wilder, who was looking for a highly publicized fight with Joshua for the heavyweight crown. There is no love lost between Joshua and Wilder and the boxing world was eager to set up what would have been one of the biggest heavyweight  bouts in boxing history.
Wilder may still have to fight Joshua to get to Ruiz; but with Joshua now merely a stepping stone to the ultimate prize, the anticipated bout against Wilder has suddenly lost some of its appeal. Fight organizers may think it best to reschedule the contest between Joshua and Wilder sooner rather than later.